US East coast braces for Irene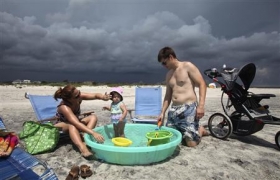 As North Carolina braced on Friday for a direct hit from Hurricane Irene, cities along the east coast were on alert and millions of beach goers cut short vacations to escape the powerful storm.
With more than 50 million people potentially in Irene's path, residents stocked up on food and water and worked to secure homes, vehicles and boats. States, cities, ports, oil refineries and nuclear plants scrambled to activate emergency plans.
"I filled my tank up with gas in case I need to leave in a hurry or something, and get a lot of food supplies, taking everything out of my yard ... anything that can fly into a window," said Patricia Stapleton of Newport, North Carolina.
Irene lashed the low-lying Bahamas on Thursday and was expected to hit North Carolina on Saturday before heading up the coast to New York and beyond.
Irene weakened slightly early on Friday -- to a Category 2 hurricane from a Category 3 on the five-step Saffir-Simpson scale -- but still was packing winds of up to 110 miles per hour (175 km per hour).
At 5 a.m. EDT, its center was about 420 miles south-southwest of Cape Hatteras, North Carolina.
"Some re-intensification is possible today and Irene is expected to be near the threshold between Category Two and Three as it reaches the North Carolina coast," the U.S. National Hurricane Center said.
Coastal evacuations were under way in North Carolina and were ordered for beach resorts in Virginia, Delaware and Maryland. Airlines began to cut flights at eastern airports, made plans to move aircraft from the region and encouraged travelers to consider postponing trips.
"All the major metropolitan areas along the northeast are going to be impacted," National Hurricane Center Director Bill Read told Reuters Insider. "Being a large hurricane, tropical storm-force winds will extend far inland."
Photo shows storm clouds looming in the background as Charlotte residents Mark and Denise Flanders and daughter Verity enjoy their vacation on the east end of Ocean Isle Beach in Southeastern North Carolina, August 24, 2011.
REUTERS/Randall Hill
Article continues: http://www.reuters.com/article/2011/08/26/us-storm-irene-idUSTRE77K01820110826