On-Road Charging Could Allow "˜Unlimited' EV Driving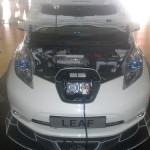 Japanese researchers are developing a new system that they say could ultimately power electric vehicles (EVs) for travel across unlimited distances without the hindrance of heavy batteries. While based on railway infrastructure in which individual cars are powered through overhead wires, the new EV technology would convert energy from overhead power lines into radio frequencies and transmit these frequencies to a metal track embedded under the surface of the road.
The prototype electric vehicle, being developed by Toyota Central R&D Labs and Toyohashi University of Technology, is able to convert this radio frequency to functional voltage through a circular steel belt installed inside the tires.
For further information: http://blog.cleantechies.com/2011/08/26/on-road-charging-could-allow-unlimited-ev-driving/?utm_source=feedburner&utm_medium=feed&utm_campaign=Feed%3A+cleantechies+%28CleanTechies+Blog%29&utm_content=Google+Reader