Exxon, Rosneft tie up in Russian Arctic, US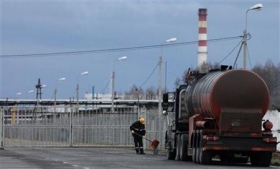 Exxon Mobil Corp and Rosneft signed an agreement to extract oil and gas from the Russian Arctic, in the most significant U.S.-Russian corporate deal since President Barack Obama began a push to improve ties.
The pact, which includes an option for Rosneft to invest in Gulf of Mexico and Texan properties, ended any hope of Britain's BP reviving its deal with state-owned Rosneft to develop the same Arctic territory. That deal was blocked in May by the billionaire partners in another BP Russian venture.
The pact gives Exxon, the biggest U.S. oil company, access to substantial reserves in Russia, the world's top oil producer. For Rosneft, it's about bringing in one of the few companies capable of drilling in the harsh, deep waters of the Arctic.
Russia has shown greater willingness in the past year to secure foreign partners, even if some deals later fell apart. The Exxon announcement comes only months after the demise of a Rosneft deal with Chevron Corp for a $1 billion investment in an estimated $32 billion Black Sea project.
Analysts cited differences between Chevron and Rosneft over the choice of contractor, the joint venture's domicile and the jurisdiction of arbitration for any business disputes.
Yet Chevron, like Royal Dutch Shell Plc, was also considered a potential partner for Rosneft's Arctic venture.
Russian Prime Minister Vladimir Putin attended the Tuesday signing -- in the Black Sea resort of Sochi -- by Exxon Chief Executive Rex Tillerson and Russia's top energy official, Deputy Prime Minister Igor Sechin.
"New horizons are opening up. One of the world's leading companies, Exxon Mobil, is starting to work on Russia's strategic shelf and deepwater continental shelf," Putin said.
Exxon and Rosneft agreed to invest $3.2 billion to develop East Prinovozemelsky Blocks 1, 2, and 3 in the Arctic Kara Sea and the Tuapse licensing block in the Black Sea.
Photo shows an employee working near a gasoline tank truck outside the Rosneft Achinsk oil refinery plant, one of the biggest Siberian fuel suppliers, near the town of Achinsk, some 117 miles west of Krasnoyarsk, April 28, 2011. Credit: Reuters/Ilya Naymushin
Article continues: http://www.reuters.com/article/2011/08/31/us-rosneft-exxon-idUSTRE77T2OM20110831