New plan to restore 150 million hectares of forest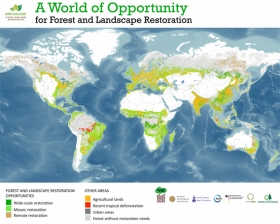 Conservationists and politicians meeting in Bonn on Friday launched a new initiative to restore 150 million hectares (580,000 square miles) of deforested and degraded forests, reports the World Resources Institute (WRI), an NGO that is involved in the effort. Supporters say the target — dubbed the Bonn Challenge — could could boost economic growth while helping fight climate change.
!ADVERISEMENT!
"Restoring 150 million hectares of degraded lands represents an exciting and largely untapped opportunity to create more jobs and economic growth, while also protecting our climate," said Göran Persson, a former Prime Minister of Sweden who will lead the New Global Restoration Council.
"Forest restoration is a big idea that carries many benefits. It will improve food security, enhance biodiversity, protect our climate, and generate jobs," added Manish Bapna, interim President for WRI, in a statement. "With this new 150 million hectare target... we have a great opportunity to take action that will enhance the resilience of people and nature."
For further information: http://news.mongabay.com/2011/0902-forest_restoration_challenge.html