Humboldt Residents Say Not In My Backyard To Wind Farm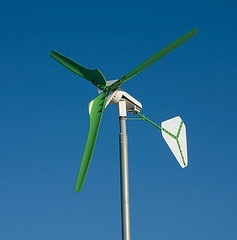 A proposed wind power project in California's Humboldt County ShellWind Energy, Inc. (SWE) is drawing some serious "not in my backyard" (NIMBY) responses. During a Ferndale City Council meeting on September 1, 2011, residents expressed concerns about construction noise, use of large trucks, the visual impact of the wind turbines, light pollution and the effect on property values, the Eureka Times Standard reports. Prior to the meeting, residents sent letters to the Ferndale City Council opposing the project. According to the Eureka Standard Times, one of the letters said, "This project could have a major impact on the lives of residents of both the city of Ferndale and the Eel River Valley. Citizens' questions and concerns must be addressed before any final decision are reached on a project of this magnitude."
The Bear Wind River Wind Power Project would consist of up to 25 wind turbines with a 50 to 75 megawatt capacity on the Bear River Ridge, about six miles south of Ferndale. Located on private property, SWE obtained long-term agreements (wind leases) with local land owners to develop the project, according to a December 2009 project description. The project area, according to the description, "is currently used primarily for agriculture (i.e., cattle production) and timberland management and is identified in Humboldt County Zoning Regulations."
For further information:  http://www.triplepundit.com/2011/09/humboldt-residents-backyard-wind-farm/?utm_source=feedburner&utm_medium=feed&utm_campaign=Feed%3A+TriplePundit+%28Triple+Pundit%29&utm_content=Google+Reader