Health Effects and Light Bulbs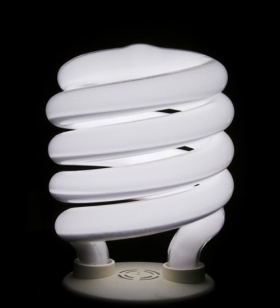 For the first time scientists examined melatonin suppression in a various types of light bulbs, primarily those used for outdoor illumination, such as streetlights, road lighting, mall lighting and the like. Exposure to the light of white LED bulbs, it turns out, suppresses melatonin five times more than exposure to the outdoor lights filled with high pressure sodium bulbs that give off an orange-yellow light. Melatonin is a compound that adjusts our biological clock and is known for its anti-oxidant and anti-cancerous properties. All devices have their effects, both positive and negative it seems.
The study investigated the influence of different types of bulbs on "light pollution" and the suppression of melatonin, with the researchers recommending several steps that should be taken to balance the need to save energy and protecting public health
Human beings, plants and animals have a biological clock and it tells each plant, human and animal when to eat, sleep and when to wake up. In addition to this, we are able to reset this clock to fit in more usefully with our everyday life. Changes to this rhythm can cause unease and upset a person or plant or animal. The changes may be critical in some cases and in other cases have no effect.
An LED lamp (LED light bulb) is a solid-state lamp that uses light-emitting diodes (LEDs) as the source of light. The LEDs involved may be conventional semiconductor light-emitting diodes, organic LEDs (OLED), or polymer light-emitting diodes (PLED) devices, although PLED technologies are not currently commercially available.
A compact fluorescent lamp (CFL; also called compact fluorescent light, energy-saving light, and compact fluorescent tube) is a fluorescent lamp designed to replace an incandescent lamp; some types fit into light fixtures formerly used for incandescent lamps.
The incandescent light bulb, incandescent lamp or incandescent light globe makes light by heating a metal filament wire to a high temperature until it glows.
It is known that that white artificial light (which is actually blue light on the spectrum, emitted at wavelengths of between 440-500 nanometers) suppresses the production of melatonin in the brain's pineal gland. Also known is the fact that suppressing the production of melatonin, which is responsible, among other things, for the regulation of our biological clock, causes behavior disruptions and health problems.
In the first, analytical part of the study, the researchers, relying on various data, calculated the wavelength and energy output of bulbs that are generally used for outdoor lighting. Next, they compared that information with existing research regarding melatonin suppression to determine the melatonin suppression level of each bulb type.
Taking into account the necessity for artificial lighting in cities, as well as the importance of energy-saving bulbs, the research team took as a reference point the level of melatonin suppression by a high-pressure sodium (HPS) bulb, a bulb that gives off orange-yellow light and is often used for street and road lighting, and compared the data from the other bulbs to that one.
From this comparison it emerged that the metal halide bulb, which gives off a white light and is used for stadium lighting, among other uses, suppresses melatonin at a rate more than 3 times greater than the HPS bulb, while the light-emitting diode (LED) bulb, which also gives off a white light, suppresses melatonin at a rate more than 5 times higher than the HPS bulb.
All of this suggests that lighting needs must be better understood.
For further information: http://newmedia-eng.haifa.ac.il/?p=5516
Photo: http://www.dimensionsguide.com/wp-content/uploads/2009/12/Light-Bulb.jpg