Summer Arctic sea ice melt at or near record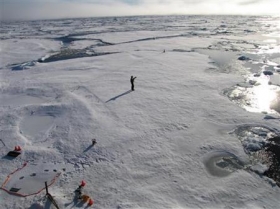 Arctic sea ice this summer melted to a record low extent or will come a close second, two different research institutes said on Tuesday, confirming a trend which could yield an ice-free summer within a decade.
The five biggest melts in a 32-year satellite record have all happened in the past five years, likely a result of both manmade climate change and natural weather patterns.
One impact of an ice-free summer may be disrupted world weather, with hints already as some scientists blame recent chill winters in Europe and North America on warmer, open Arctic seas diverting polar winds south.
Researchers at the University of Bremen in Germany say that this year has already toppled 2007 after sea ice retreated to a record low on September 8.
The U.S.-based National Snow and Ice Data Center (NSIDC) says this year is number two with the melt season all but over before winter returns to the high Arctic.
"I'm increasingly confident it will remain number two," said Mark Serreze, head of the NSIDC. But the result may be close enough to declare a tie, he added.
More important than the record was the trend, said University of Bremen's Georg Heygster, referring to how the years since 2007 had all since bigger summer melts than those before.
A tie would echo the World Meteorological Organisation's view on recent rising global temperatures, after it declared 2010 a tie with 1998 and 2005 for the hottest year since such records began about a century and a half ago.
Bremen and NSIDC use satellites to measure microwave radiation from the ice pack, but with slightly different methods: NSIDC can achieve a sharper image, but Bremen to a higher resolution of 6 kilometers compared with 25 km.
Researchers agree that summer sea ice is disappearing faster than expected.
"An 'ice-free' summer Arctic is rapidly on its way. Most data indicate that the models are underestimating the rate of ice-loss," said Kim Holmen, research director at the Norwegian Polar Institute.
Photo shows a member of a team of Cambridge scientists trying to find out why Arctic sea ice is melting so fast, walking on some drift ice 500 miles (800 km) from the North Pole September 3, 2011. Credit: Reuters/Stuart McDILL
Article continues: http://www.reuters.com/article/2011/09/14/us-arctic-record-idUSTRE78C5LZ20110914