Tallest Building in New York Now LEED Certified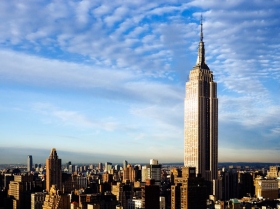 The tallest building in New York currently standing is the Empire State Building. It is a beautiful symbol of the greatness of New York, rising 1,250 feet (381 meters) with an antenna spire rising to 1,454 feet (443.2 meters) above bustling midtown Manhattan. It was named one of the Seven Modern Wonders of the Modern World by the American Society of Civil Engineers, amidst the ranks of the Panama Canal, the Channel Tunnel, and the Golden Gate Bridge. Now it can add another notch in its belt, as it has just been awarded LEED Gold certification by the US Green Building Council.
Energy savings from the retrofits are expected to be about 38% by 2013, cutting energy costs by $4.4 million. The retrofits included upgrading windows and insulation, and renovating the cooling plant in the basement. Building manager, Malkin Holdings, are set to purchase 55 million kilowatt hours of renewable energy from retailer, Green Mountain Energy. Overall carbon emissions reductions from building operation and maintenance are expected to be 105,000 metric tons over the next 15 years.
Also, new housekeeping policies are in place to maintain the LEED ranking. These include the use of cleaning products and pest control supplies that are eco-friendly. New recycling programs have been implemented. The paints, floor and wall coverings are all low-VOC and come from sustainable sources. Bathrooms have low flow fixtures installed. Meters will also be installed for each tenant so they can monitor their own individual energy use.
The effort to turn this iconic landmark into the largest eco-friendly building in the country began in 2009. The two-year retrofit program, with a price tag of $100 million, was conducted as part of the much larger Empire State ReBuilding Program, which cost about $550 million. The upgrades were designed and installed by notable engineering firm, Johnson Controls, in conjunction with international real estate firm, Jones Lang LaSalle.
Individual office spaces have also been renovated to achieve their own LEED certification for Commercial Interiors. For example, there is a 3,500 sf space on the 42nd floor that is LEED Platinum.
At the time it was built in 1931, the Empire State Building was the world's tallest building are remained so for 40 years. It is truly a wonder that an 80 year old, 102-story building can be considered one of the greenest buildings in the city. Its height will eventually be surpassed by the Freedom Tower, currently under construction in lower Manhattan. But future generations will still marvel at her, and know that this old building can still stay ahead of her time.
For more information: http://www.esbnyc.com/sustainability_energy_efficiency.asp