Israeli Movie Against Pesticides 1st At Int'l Festival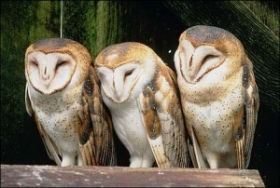 An Israeli film depicting the advantages of using barn owls and kestrels in place of pesticides won first prize in an international film competition that concluded on Friday. The 2010 film, called The Use of Barn Owls and Kestrels as Biological Control Agents and produced by Yuval Dax, topped the charts in the expert and instructive films category at the Agrofilm Festival held throughout last week in Nitra, Slovakia, the Society for the Protection of Nature (SPNI), announced on Monday.
SPNI, along with Tel Aviv University, were the chief backers of the film, which in under 11 minutes explores the different ways that the barn owl – and its daytime counterpart, the kestrel raptor – have become "a natural hunting machine that eliminates rodents. With stereoscopic vision, sharper hearing than that of humans and silent flight, the barn owl is 'the answer' to what was formerly a field ridden with potentially cancerous pesticides," the film argues.
The barn owl, which can catch 2,000 to 5,000 rodents per year, improves agricultural yield among certain crops by 24 percent – brings an "instant solution" against pests that does not involve dangerous chemicals, the film narrator explains.
Meanwhile, to help encourage the barn owls to make their homes within agricultural areas, birdwatcher and Israeli naval officer Amir Ezer has been reusing ammunition cases to create nesting boxes for the owls all over Israel, according to the narrator.
While the 2010 movie boasts 1,640 such nesting boxes throughout the country, a Monday statement from SPNI indicated that the number is now up to 2,100.
Article continues: http://nocamels.com/2011/10/israeli-movie-against-pesticides-1st-at-intl-festival/