Population has bigger effect than climate change on crop yields, study suggests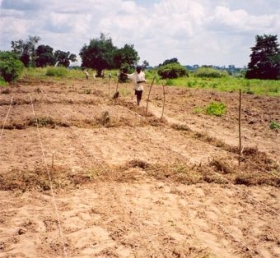 Population pressure will be as significant a factor as climate change in reducing crop yields — and thus increasing food insecurity — in West Africa, according to a modelling study.
The authors inserted different climate change, land use, and demographic change scenarios, into an internationally validated model to estimate maize yields in Benin from 2021–2050.
They found that, as the population increases, farmers frequently cultivate cropland without allowing adequate resting periods for the soil to regain its fertility — thus reducing crop yields.
Overall, they found that various land use scenarios reduced maize yields by up to 24 per cent over the period, whereas climate change scenarios reduced them by up to 18 per cent.
But beyond 2050, "climate change is most likely to be the predominant driver for crop productivity", they concluded.
"Our main assumption [before conducting the study] was that the low-input fallow systems (which allow resting periods for ploughed, but un-seeded land) in Benin and other West African countries would not change in the near future," said Thomas Gaiser, lead author and a researcher at the University of Bonn, Germany.
"If governments in the region introduce policies such as the promotion of the use of mineral fertilisers, then the decrease [in the amount of land left fallow] will not be as serious as that without fertilisers," he added.
Gaiser said farmers should use mineral fertilizers or intercrop with leguminous crops to promote soil fertility and increase yields.
He added that the findings are relevant to many Sub-Saharan African countries relying on leaving land fallow for soil fertility, like Ghana, Senegal, Sierra Leone and Togo.
Article continues: http://www.scidev.net/en/agriculture-and-environment/farming-practices/news/population-has-bigger-effect-than-climate-change-on-crop-yields-study-suggests.html