Oil spill grows from stricken ship off New Zealand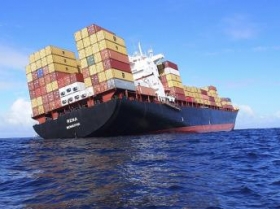 An oil spill from a container ship stricken off New Zealand is growing as the weather deteriorates, sending clumps of thick fuel oil on to nearby beaches, officials said on Tuesday.
The 47,230-tonne Liberian-flagged Rena has been stranded on a reef about 12 nautical miles off Tauranga on the east coast of the country's North Island since running aground on Wednesday.
As much as 350 of 1,700 tonnes of heavy fuel oil has already escaped and authorities have warned people off the beaches and from eating seafood.
The district is a popular holiday resort, with long, golden beaches renowned for surfing and nearby waters with an international reputation for big-game fishing.
Booms have been put over some harbor entrances to prevent oil from destroying wetland and wildlife habitats. So far fewer than a dozen seabirds have died and about the same number treated for oil contamination.
Maritime New Zealand said weather overnight had shifted the ship on the reef and continuing heavy swells and strengthening winds were making it too dangerous to stay on board.
"All personnel have now been taken off the vessel as a precautionary measure due to the conditions," the agency said in a statement.
Swells of up to four meters (12 feet) and winds gusting up to 25 knots had moved the ship around on the reef, but also reduced its list to between three and six degrees from the previous 11 degrees.
Photo credit: rfiEnglish
Article continues: http://www.reuters.com/article/2011/10/11/us-newzealand-ship-idUSTRE7990GI20111011