Hesperia Planum Mystery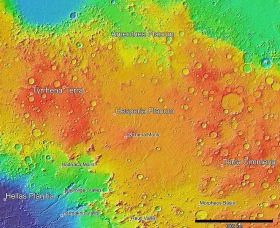 One of the supposedly best understood and least interesting landscapes on Mars is hiding something that could rewrite the planet's history. Or not. In fact, about all that is certain is that decades of assumptions regarding the wide, flat Hesperia Planum are not holding up very well under renewed scrutiny with higher-resolution, more recent spacecraft data. Hesperia Planum is a broad lava plain in the southern highlands of the planet Mars. The plain is notable for its moderate number of impact craters and abundant wrinkle ridges. It is also the location of the ancient volcano Tyrrhena Mons (Tyrrhena Patera). The Hesperian time period on Mars is named after Hesperia Planum. The cause of of the mystery is whatcaused the numerous rilles: water or lava.
Hesperia Planum is generally interpreted to be composed of flood lavas, although layered volcaniclastic or lacustrine (lake-bed) sediments cannot be ruled out. The lavas appear to partly fill a large, irregular topographic depression that existed in Noachian times. The rims of pre-existing impact craters are still visible in places, indicating that the lava deposits are 250–500 meters in thickness. The volume of lavas within Hesperia Planum is comparable to that found in large igneous provinces on Earth, such as the Columbia River Basalt Group.
"There's a volcano in Hesperia Planum that not many people pay attention to because it's very small," Gregg said. "As I started looking closer at the broader region — I can't find any other volcanic vents, any flows. I just kept looking for evidence of lava flows. It's kind of frustrating. There is nothing like that in the Hesperia Planum."
"A likely cause of this trouble is the thick dust that blankets Hesperia Planum," she said. "It covers everywhere like a snowfall."
So she turned her attention to what could be discerned on Hesperia Planum: about a dozen narrow, sinuous channels, called rilles, just a few hundred meters wide and up to hundreds of kilometers long. These rilles have no obvious sources or destinations and it is not at all clear they are volcanic.
"The question I have is what made the channels,"; said Gregg. Was it water, lava, or something else? "There are some lavas that can be really, really runny. And both are liquids that run downhill." So either is a possibility.
To begin to sort the matter out, Gregg and Roberts are now looking for help on the Moon. Their preliminary findings will be presented Wednesday, 12 Oct., at the meeting of The Geological Society of America in Minneapolis.
"On the Moon we see these same kinds of features and we know that water couldn't have formed them there," Gregg said. So they are in the process of comparing channels on the Moon and Mars, using similar data sets from different spacecraft, to see if that sheds any light on the matter. She hopes to find evidence that will rule out water or lava on Hesperia Planum.
"Everybody assumed these were huge lava flows," said Gregg. "But if it turns out to be a lake deposit, it's a very different picture of what Mars was doing at that time." It would also make Hesperia Planum a good place to look for life, because water plus volcanic heat and minerals is widely believed to be a winning combination for getting life started.
"The volcanic part is an interpretation that's beginning to fall apart," said Gregg. "What is holding up is that the Hesperian marks a transition between the Noachian (a time of liquid water on the surface and the formation of lots of impact craters) and the Amazonian (a drier, colder Mars)."
For further in information:  http://www.geosociety.org/news/pr/11-71.htm
Photo: http://en.wikipedia.org/wiki/File:Hesperia_Topo_Map.jpg