New Zealand salvage team pumps oil from stricken Rena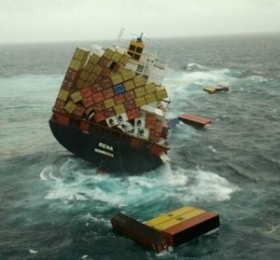 Salvage teams pumped oil on Monday from a stricken container ship off the New Zealand coast, ahead of bad weather which could split the vessel into two and spew more oil onto beaches.
The Liberian-flagged Rena has been stuck for 12 days on a reef 14 miles off Tauranga on the east coast of New Zealand's North Island, having already spilled about 350 tonnes of toxic fuel and some of its hundreds of containers into the sea.
Salvage teams were adding extra pumps to speed up the recovery of the oil, as thick as peanut butter, from the 236-meter (775 feet) vessel through holes in the side to a barge.
More than 70 tonnes have been recovered, but fears are that bad weather will halt the operation and possibly send the stern section, which contains more than 1,000 tonnes of oil, tumbling into 60 meters of water.
"If the vessel falls off the reef it could puncture a tank. You don't know what's going to happen if it falls off the reef," said Bruce Anderson, spokesman of Maritime NZ which is responsible for supervision of the shipping industry.
The agency said a crew of three salvage team members would remain on board overnight to continue with pumping efforts.
Conditions around the ship have been good but forecasts are for winds to rise to 60 kph (40 mph) and sea swells of 4 meters.
The salvage company said the ship is precarious and further spills of oil not in tanks seems inevitable.
"That ship is very, very sick. She is fractured, she is broken, she is on her knees...There probably will be more oil leaving that vessel if the weather turns nasty," Matt Watson of the Svitzer salvage told Radio New Zealand.
He said if the stern section of the ship sinks, it would complicate the recovery and require divers.
Still, Svitzer Salvage team leader Captain Drew Shannon said the ship had its own unique challenges.
"Our team is taking their time to remove the oil safely to minimize further risk to the environment," he said.
Photo credit: Bay of Plenty Times
Article continues: http://www.reuters.com/article/2011/10/17/us-newzealand-ship-idUSTRE79G0Z520111017