How Drowned Plants Survive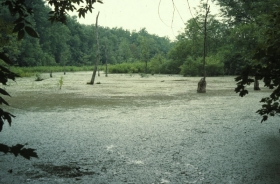 Your front lawn is under water. Your farm landscape cannot be seen except as an expanse of water. How can plants not drown? As countries such as Pakistan, Bangladesh, Vietnam and parts of the United States and United Kingdom have fallen victim to catastrophic flooding in recent years, tolerance of crops to partial or complete submergence is a key target for global food security. Starved of oxygen, crops cannot survive a flood for long periods of time, leading to drastic reductions in yields for farmers.
Plants breathe just like animals. They breath in carbon dioxide and with the aid of sunlight breathe out oxygen.
Experts at the University of California, Riverside and The University of Nottingham now report they have discovered how plants sense low oxygen levels to survive flooding – a finding that could lead eventually to the production of high-yielding, flood-tolerant crops, benefiting farmers, markets and consumers everywhere.
Specifically, the researchers identified the molecular mechanism involved. This mechanism controls key plant proteins, causing them to be unstable when oxygen levels are normal. When roots or shoots are flooded and oxygen levels drop, these proteins become stable.
"When a plant cell is starved for oxygen, it cannot efficiently generate adenosine triphosphate or ATP, the high-energy molecule plants use for energy storage," explained Julia Bailey-Serres, one of the key researchers participating in the study and a professor of genetics in the Department of Botany and Plant Sciences at UC Riverside. "Because the plant cannot generate enough energy to sustain normal growth, it tries a different approach: it taps into its energy reserves, resulting in more sugars breaking down, as opposed to when oxygen is available, in order to produce ATP. These subtle changes in metabolism are characteristic of low oxygen stress in plant and animal cells. It's similar to the production of lactic acid in our bodies when we exercise. We produce lactic acid as a by-product because we are not producing energy aerobically."
The study describing the oxygen-sensing protein turnover mechanism appears online Oct. 23 in Nature.

In the current work, the researchers performed their experiments on Arabidopsis, a small flowering plant used widely in plant biology laboratories as a model organism. SUB1A-like proteins are present in other plants, including Arabidopsis. While the protein turnover mechanism targets SUB1A-like proteins in Arabidopsis, the researchers found, to their surprise, that rice SUB1A is resistant to the protein turnover mechanism.
"We think that SUB1A's ability to evade destruction by the protein turnover mechanism under normal oxygen levels may allow it to provide its benefit to submerged rice plants," Bailey-Serres said. "The SUB1A gene is switched on by ethylene gas that accumulates inside cells during submergence. Since the protein does not require a scarcity of oxygen to be stable, it can go to work early to aid the plant."
The research team expects that over the next decade scientists will be able to manipulate the protein turnover mechanism in a wide range of crops prone to damage by flooding.
For further information: http://newsroom.ucr.edu/2769
Photo: http://www.fs.fed.us/wildflowers/regions/eastern/LaRuePineHills/images/larue_swamps_lg.jpg