Rare October snowstorm barrels up East Coast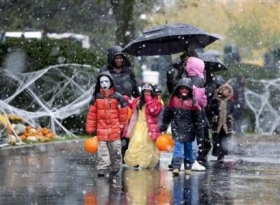 A rare October snowstorm barreled up the heavily populated East Coast on Saturday, threatening up to a foot of snow, cutting power to nearly a million households and forcing at least 1,000 flight cancellations.
Snow was falling from central Pennsylvania well into Massachusetts after blanketing parts of Virginia, West Virginia and Maryland earlier in the day, AccuWeather.com said.
The storm brought more than an inch of snow to New York's Central Park, breaking a record that had stood since 1925, AccuWeather.com said. America's most populous city stood to get 3 to 6 inches of snow before the storm tapers off on Saturday night, AccuWeather.com senior meteorologist Alan Reppert said.
Snow also fell in the capital, Washington.
Widespread power outages caused by snow, ice and falling trees were reported from the Mid-Atlantic into New England, leaving hundreds of thousands of customers in the dark.
Major delays were reported at Philadelphia International Airport and at New York-area airports. At least 1,000 flights had been canceled, and Teterboro Airport in New Jersey closed for a period of time, said flight tracking service FlightAware.com.
The snow posed traffic and parking problems for some 100,000 college football fans attending a game between Pennsylvania State and the University of Illinois in State College, Pennsylvania. Snow plows had to clear the field before the game.
"It's a strong storm for October," said AccuWeather.com senior meteorologist Paul Walker. "We don't usually see storms this deep and this strong."
The power outages included 287,943 customers reported by Connecticut Light and Power; 200,000 by PSE&G in New Jersey; more than 300,000 by First Energy in Pennsylvania and New Jersey; more than 50,000 by Consolidated Edison in New York and more than 66,000 by Allegheny Power in Maryland, Pennsylvania and West Virginia.
Photo shows local children and children of military families arriving in the snow to trick-or-treat at the North Portico of the White House in Washington October 29, 2011. Credit: REUTERS/Joshua Roberts
Article continues: http://www.reuters.com/article/2011/10/29/us-weather-northeast-idUSTRE79S1VP20111029