Chevron halts drilling of Brazil well after oil spill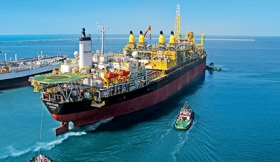 Oil giant Chevron halted drilling of a well off the coast of Brazil as it looks into the possible causes of an oil spill in the region.
Chevron said in a statement e-mailed on Saturday that an oil sheen had appeared on the surface of the ocean near the Frade project it operates, which it attributed to oil seeps in the area. The field began production in 2009 and averaged 50,000 barrels per day of output last year.
"As part of the precautionary suspension of development drilling activities at Frade, Chevron Brazil has closed in a well it was drilling in the vicinity of these oil seeps," the statement said.
In the statement, Chevron reiterated that it notified the appropriate government agencies about the accident and was working with partners to deploy response vessels to control the sheen and minimize any environmental impact.
The decision to stop operations in Frade followed a statement from President Dilma Rousseff's office last night that described the incident as "an oil spill at the Frade field ... in a new well that was being drilled by the company Chevron Brazil."
Rousseff's office urged an investigation to determine the causes of the accident and assess who was responsible.
Chevron said the total amount of oil released was between 400 barrels and 650 barrels. The project is located 230 miles offshore northeast of Rio De Janeiro in water depths of approximately 3,800 feet.
A subsea vehicle deployed by Chevron found the source of a seep, where hydrocarbons naturally escape from underground. Investigations into the sheen's causes were continuing, Chevron said.
The leak is in the Campos Basin, which accounts for the bulk of Brazil's oil output off the coast of Rio de Janeiro state. Brazil's output is expected to leap from about 2 million barrels of crude per day now, once vast reserves lying at depths of about 4.3 miles below the seabed come on stream.
Photo shows floating production, storage and offloading vessel under way to the Frade Field, offshore Brazil.
Photo Credit: Chevron
Article continues: http://www.reuters.com/article/2011/11/12/us-chevron-brazil-idUSTRE7AB0RD20111112