Climate Extremes to Come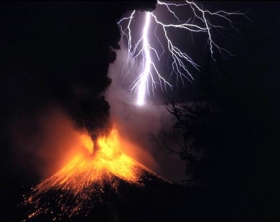 The weather has always been an interesting variable in the lives of every person. What impact will global warming have? Will there more extreme weather behavior? A new report from the Intergovernmental Panel on Climate Change (IPCC) says that an increase in heat waves as well as hurricanes, floods, and droughts will likely become more intense in the next century. The United Nations IPCC's new special report on extreme weather, which includes a range of possible scenarios based on future greenhouse gas emissions, urges governments worldwide to draft plans to minimize the likely human and economic costs of these weather phenomena.
The IPCC report is one that is couched in terms such as low and high probability as opposed to exact predictions. The following are some examples:
"There is evidence that some extremes have changed as a result of anthropogenic influences, including increases in atmospheric concentrations of greenhouse gases. It is likely that anthropogenic influences have led to warming of extreme daily minimum and maximum temperatures on the global scale. There is medium confidence that anthropogenic influences have contributed to intensification of extreme precipitation on the global scale. It is likely that there has been an anthropogenic influence on increasing extreme coastal high water due to increase in mean sea level."
The report states that the frequency of heavy precipitation will increase in the 21st century over many areas of the globe. This is particularly
the case in the high latitudes and tropical regions, and in winter in the northern mid-latitudes. Heavy rainfalls associated with tropical cyclones are likely to increase with continued warming.
Droughts are expected to intensify in the 21st century. This applies to regions including southern Europe and the Mediterranean region, central Europe, central North America, Central America and Mexico, northeast Brazil, and southern Africa.
Mean sea level rise will continue to rise and have impact on coastal low lying regions.
"It is virtually certain that increases in the frequency and magnitude of warm daily temperature extremes ... will occur in the 21st century on the global scale," the IPCC report said.
"It is very likely that the length, frequency and/or intensity of warm spells, or heat waves, will increase," it added.
"A 1-in-20 year hottest day is likely to become a 1-in-2 year event by the end of the 21st century in most regions," under one emissions scenario.
An exception is in very high latitudes, it said. Heat waves would likely get hotter by "1 degrees C to 3 degrees C by mid-21st century and by about 2 degrees C to 5 degrees C by late-21st century, depending on region and emissions scenario."
Weather extremes are to become more common it seems. How extreme is to be determined.
For further information: http://www.ipcc-wg2.gov/SREX/images/uploads/SREX-SPM_Approved-HiRes_opt.pdf
Photo: http://www.survival-spot.com/survival-blog/extreme-weather/