Aquate Group's Floating Cover Could Save Israel's Water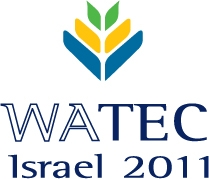 Israel's desert climate makes water a rare treasure, but even as the country takes extreme measures to keep fresh water flowing to its citizens, the simple process of evaporation is making the battle even harder. Some estimate that 20% of Israel's fresh water is lost to evaporation.
But two Israeli companies may be on the road to changing that all around. At Watec Israel, an international conference and exhibition on water technologies, renewable energy and environmental control, hosted from November 15-17 this year in Tel Aviv, Israeli national water company Mekorot agreed to a 20-year lease of a 100,000 square meter reservoir to Israel-based Aquate Group. Aquate specializes in floating reservoir covers that prevent a significant amount of the water from evaporating while providing a platform for renewable energy generation.
According to Aquate, the 20-year project with Mekorot will save 4 million cubic meters of water from evaporating and will create about 6 MW of clean power for the Israeli grid. Aquate will bear the operations and maintenance costs of the project.
"Signed in the national level and alongside national committees for assessing best options for green growth, this agreement may position Israel as a leading national actor that quantifies the economic costs of alternative solutions as well as conventional solutions with the aim of maximizing national long-term economic benefits," said Aquate Group Marketing Communications Director Maya Ben Dror.
The floating platform's ability to act as both a reservoir enhancer and a platform for additional renewable energy projects makes it a particularly revolutionary technology, Aquate Group said in a statement. The company estimates that the project will be worth a net of $45 million (USD) to Israel's national economy because of the platform's dual role.
Article continues: http://www.greenprophet.com/2011/11/aquate-floating-cover-water-israel/
Image credit: http://www.watec-israel.com/