Landmark Deal Emerges from Durban Climate Talks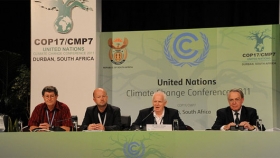 Yesterday, as the climate talks in Durban were coming to the close, delegates from around the world finally arrived at a compromise. After a marathon negotiation which spanned three sleepless nights, the delegates managed to save the international process and stave off collapse. The hope going into the talks was to finalize the agreement that was proposed the previous year, and that is what they did. The agreement establishes a new multi-billion dollar fund to assist developing nations adapt to a changing climate and produce clean energy. In addition, Europe has kept the Kyoto treaty alive for another five years.
Ideally, the climate talks would have liked to produce a successor to the Kyoto Protocol, an international agreement to cap global emissions. The protocol was not ratified by the big polluters of the world, China, USA, and India. These three large nations were being blamed for holding up the works, stymieing the process when they saw fit.
The US never liked the treaty because it did not hold China and India accountable for emissions. China and India did not like it because they feared emission caps would stunt their economic growth.
All the nations finally did come together through much political and diplomatic haggling, and an 11th hour effort from the South African Foreign Minister. They agreed that the poorest countries would likely be the ones to suffer most from climate change, largely produced by emissions from the richest countries. An assistance fund was seen as a prudent measure in helping the poorer countries cope.
The landmark deal was made exactly 14 years to the day after the Kyoto treaty was made in Japan. It was important because it keeps the momentum alive for the ongoing international climate talks. If nothing was produced in Durban, enthusiasm might fail because people would start to believe that the international community was not interested in combating climate change.
Another major development is that all nations agreed to negotiate a binding global emissions agreement by 2015; an agreement that would not preclude any of the big polluters and hold nations accountable. At next year's climate talks, the delegates will try to build on their momentum to make this a reality.
For more information: http://www.cop17-cmp7durban.com/
Image credit: UNclimatechange/Flickr