Bicycle Power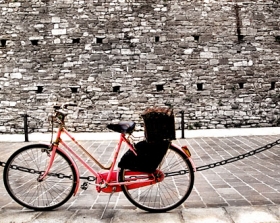 How to get to work and such. Always a perplexing problem. European Union (EU) wide reductions of GHG (greenhouse gas emissions) are under scrutiny by many critics as the progress and actual results seem to fall short of the goals set by the EU this year. Recent reports affirm that the EU will not achieve the reduction of transport emissions by 60% between 1990 and 2050 through technology alone. An interesting take on the subject is revealed by a recent study authored by the European Cyclists' Federation (ECF), which has quantified emissions savings of cycling compared with other modes of transport. Even taking into account the production, maintenance and fuel [food] related to bicycle use, emissions from cycling were over 10 times lower than those stemming from the passenger car.
A bicycle, also known as a bike, pushbike or cycle, is a human-powered, pedal-driven, single-track vehicle, having two wheels attached to a frame, one behind the other. A person who rides a bicycle is called a cyclist, or bicyclist.
Bicycles were introduced in the 19th century and now number about one billion worldwide, twice as many as automobiles. They are the principal means of transportation in many regions. They also provide a popular form of recreation, and have been adapted for such uses as children's toys, adult fitness, military and police applications, courier services and bicycle racing.
Comparing cars, buses, electric assisted bicycles and normal bicycles, ECF investigated how cycling could help the EU achieve its 2050 GHG reduction targets for Transport. According to the study, if EU citizens were to cycle as much as the Danes in 2000, (an average of 2.6 kilometers a day), it would help the EU meet more than a quarter of the targeted emission reductions for the transport sector.
"Cycle 5 kilometers a day and we reach 50% of the target," notes the Author Benoit Blondel, ECF Environment and Health Policy Officer, adding that "the potential for cycling to achieve these targets is huge. And with such little effort. Getting more people on bikes is going to be a lot cheaper than say getting more electric cars on the road".
The study also reinforced the European Environment Agency's recent assessment that improvements in technology and fuel efficiency alone will not allow the EU to achieve its target of reducing transport emissions by 60%.
Key findings include:
Emissions from cycling are over 10 times lower than those stemming from the passenger car, even taking into account the additional dietary intake of a cyclist compared with that of a motorized transport user.
E-bikes, despite their electric assistance, have emissions in the same range as ordinary bicycles. Considering E-bikes allows for 56% longer daily commutes and substitutes the car for 39% of trips, they have a huge potential to further reduce transport emissions.
Bicycle-share schemes also have the potential to reduce further emissions, considering it is a substitute for motorized transport for 50-75% of the users.
If levels of cycling in the EU-27 were equivalent to those found in Denmark in 2000, bicycle use would achieve 26% of the 2050 GHG target set for the transport sector
Around the turn of the 20th century, bicycles reduced crowding in inner-city tenements by allowing workers to commute from more spacious dwellings in the suburbs. They also reduced dependence on horses. Bicycles allowed people to travel for leisure into the country, since bicycles were three times as energy efficient as walking and three to four times as fast.
In Europe, especially in The Netherlands and parts of Germany and Denmark, commuting by bicycle is very common. In the Danish capital of Copenhagen, a cyclists' organization runs a Cycling Embassy, that promotes biking for commuting and sightseeing. The United Kingdom has a tax break scheme (IR 176) that allows employees to buy a new bicycle tax free to use for commuting.
For further information: http://www.ecf.com/press_release/5056/
Photo: http://www.destination360.com/europe/italy/bicycle-tours