Postmaster General Talks Sustainability in Durban While Promoting Junk Mail Back Home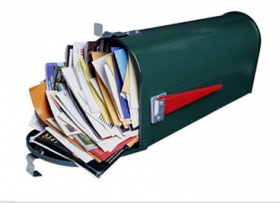 US Postmaster General Patrick R. Donahoe is a busy man, working incessantly on securing the future of the Postal Service. Yet, last week he found the time to attend the COP17 climate conference in Durban, South Africa, where according to a USPS press release he "heralded the U.S. Postal Service's sustainability successes, making the business case to go green."
Donahoe talked in an international media roundtable that was hosted by the International Post Corporation (IPC) and the South African Post Office. He mentioned some of the Postal Service's green initiatives and announced that "this is a powerful story and makes the business case for sustainability." He only forgot to mention that the Postal Service is mainly making money from delivering junk mail and is losing billions of dollars a year. It is a powerful story, but not on how you succeed when you are sustainable, but probably more on how you lose when you aren't.
I wonder if any of the participants in that roundtable had the chance to read Elisabeth Rosenthal's article 'The Junking of the Postal Service,' which was published last Sunday.
If they did, they would have learned that the U.S. Postal Service delivered 57.2 pounds of mail per person in 2010. Out of that, 30.3 pounds were what the Postal Service calls 'standard mail', the low-cost postage category available to mass advertisers. The rest of us call it junk mail. So let me do the math here – 53 percent of all the mail delivered in the U.S. is junk mail. In total, we're talking about 9.3 billion pounds of junk mail versus only 3.7 billion of first-class mail that were handled by the Postal Service last year.
Article continues: http://www.triplepundit.com/2011/12/postmaster-general-talks-durban-sustainability-promoting-junk-mail/
Image credit: http://www.properpromoting.com/