Warning as infectious salmon disease spreads from Europe's fish farms to Canada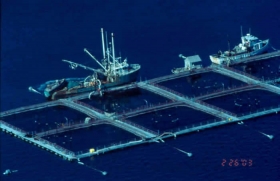 The rise of the farmed fish industry in recent years has been accompanied by the emergence of many infectious diseases of fish. One of the most recent and serious diseases is the marine viral disease, Infectious Salmon Anaemia (ISA).
First detected in Atlantic salmon farmed along the southwest coast of Norway in 1984, it has since spread throughout the world.
As the name suggests, ISA shows itself by a severe anaemia, with fish displaying pale gills, and often swimming close to the surface of the water, gulping for air. More insidiously, however, many fish show no signs at all until they suddenly die.
An outbreak of the ISA was detected in wild Pacific salmon last October, in the Canadian province of British Columbia. Outbreaks of this virus have previously been detected in fish farms in Chile and Scotland, and although not dangerous to human health, have had serious impacts on the industry and the communities who depend upon it.
Infection spreading to wild fish
Effective management of the diseases of aquatic animals can be problematic. Often, too little is known about the infection itself, and infections can spread via flowing water and populations of wild fish sharing the same waters as farmed fish.
British Columbia's ISA outbreak in wild salmon was discovered by researchers from Simon Fraser University, led by Professor Richard Routledge. Samples were taken in May and June last year as part of a ten year study into the importance of the Rivers Inlet area to migrating juvenile sockeye salmon.
Article continues: http://www.theecologist.org/News/news_analysis/1165637/warning_as_infectious_salmon_disease_spreads_from_europes_fish_farms_to_canada.html
Image credit: Maine.gov