Who pays the EU airline carbon tax? Not Chinese airlines!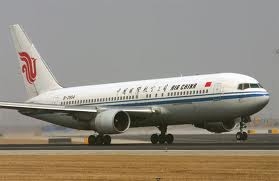 China voiced its deep concern and opposition on Thursday to a European Union plan to counter airline emissions and called for talks to resolve the issue a day after China's major airlines refused to pay any carbon costs under the new law.
From January 1, all airlines using EU airports fall under the EU's Emissions Trading Scheme (ETS), and could be forced to pay fines of 100 euros ($128) for each tonne of carbon dioxide emitted for which airlines have not surrendered carbon allowances.
"China opposes the European Union's unilateral legislation. China has expressed to the EU our deep concern and opposition many times on a bilateral level," Foreign Ministry spokesman Hong Lei said.
"We hope the EU can take careful precautions with a cautious and practical attitude, and regarding those aspects involving China, appropriately discuss and handle this matter," Hong told reporters during a regular briefing.
The scheme was launched in 2005 as one of the pillars of Europe's efforts to combat climate change, and if airlines persistently flout the law the EU has the option of banning the operator.
Following a December ruling from Europe's highest court that inclusion of airlines in the ETS was valid, China's official Xinhua news agency warned of a trade war.
Spokesman Hong said that other countries had taken an equally negative view of the legislation.
The United States has warned of possible retaliation, while a draft law in the U.S. Congress proposes to make it illegal to comply with the EU legislation.
Cai Haibo, deputy secretary-general of the China Air Transport Association (CATA), told Reuters on Wednesday that China would not cooperate with the EU on the scheme.
Photo credit: blog.chinatraveldepot.com
Article continues: http://www.reuters.com/article/2012/01/05/us-china-eu-emissions-idUSTRE8040JM20120105