China Partners With Better Place On Electric Vehicle Center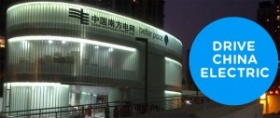 China Southern Power Grid (CSG) and Better Place, the Israeli provider of global electric car networks, announced the opening of their Switchable Electric Car Experience Center in Guangzhou's Pearl River New Town. The center will demonstrate the technology behind Better Place's "battery swap stations" for electric cars.
"This marks Guangzhou as the starting point for EV [Electric Vehicle] network infrastructure in the five Southern provinces served by CSG," says Better place.
CSG, according to Better Place, is aiming to implement China's national energy conservation and low emission strategy, and implement EV infrastructure construction in accordance with local needs.
According to a report from Ward's Auto released last august; the global number of cars exceeded 1.015 billion in 2010, jumping from 980 million the year before.
Not surprisingly, China led the way in vehicle growth, with the number of cars on Chinese roads increasing by 27.5 percent, amounting to half the entire global growth. That gives China the world's second largest car population, with 78 million vehicles, after the United States.
Article continues: http://nocamels.com/2012/01/china-partners-with-better-place-on-electric-vehicle-center/
Image credit: Better Place