Ski Resorts Blow Fake Snow For A 'Brown' Winter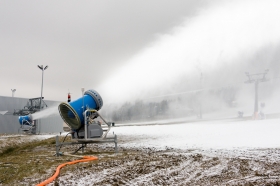 Across the Midwest and northeast this weekend, ski resort towns are celebrating the arrival of winter for the first time this season.
Terry Hill has been renting out cabins near Baxter State Park in Maine in 30 years, where she says they only received about four to five inches of snow on Saturday.
She usually rents her cabins to those who like to snowmobile, but those cabins are empty right now. She says Maine needs a couple more big storms to make up lost ground for what's been a brown winter.
"It doesn't feel right at all," Hill says. "We normally would have good snow in December."
In Homewood, Calif., 3,200 miles away, Rachel Woods, spokesperson at Homewood Mountain says a lack of snow means only beginner runs are open — and even then, only on the weekends.
There was some snowfall early on in the season, but since then it's been dry. Fortunately for the snow-making team at Homewood it has been cold.
"They've definitely been taking advantage of every chance possible to make snow," Woods says.
Article continues: http://www.npr.org/2012/01/15/145262332/ski-resorts-blow-fake-snow-for-a-brown-winter?ft=1&f=1025
Image credit: Rafal Olechowski/Shutterstock