Obama Deals a Blow to Ocean Wildlife With Plan to Move Ocean Agency to Interior Department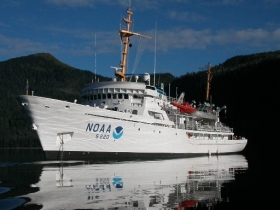 SAN FRANCISCO— President Barack Obama today announced a plan to take the National Oceanic and Atmospheric Administration (NOAA) out of the Commerce Department and house it within the Department of the Interior. Miyoko Sakashita, oceans director at the Center for Biological Diversity, issued the following statement in response:
"Moving the agency that oversees the health of our oceans and sea life to the same agency that permits offshore drilling is courting trouble. Under Obama's plan, NOAA's mission to safeguard our waters could easily be compromised by Interior's drive to expand offshore drilling. Interior is the same department that once housed the infamous Minerals Management Service, whose lax oversight contributed to the Deepwater Horizon disaster."
"During his last campaign, Obama promised to bring scientific integrity to government decision-making — and NOAA was an agency at the forefront of that promise. I guess his new campaign promises expedience over science — if history is any measure, this is a pledge that the Interior Department could deliver.
"Our oceans are already in trouble with pollution, overfishing, ocean acidification and climate change. Shuffling NOAA around will only distract resources that can better be spent on taking care of our oceans."
Image credit: NOAA