Better Place Puts 100 Electric Cars on Israeli Roads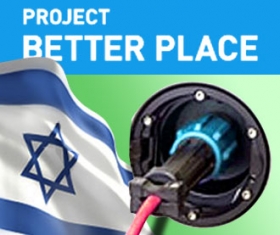 After more than four years in the making, media reports and hype, visits to the Better Place Education and Test Drive Center and final delivery prices, Better Place Renault Fluence ZE electric cars are finally on their way to purchasers in Israel. In a high profile ceremony on Sunday, January 22, which we were invited to but could not make because of the rain, Better Place launched its first 100 cars sent off to customers from the Better Place Israel headquarters near Tel Aviv. The cars, all Renault Fluences that had been specially built for running exclusively on electricity were sent off in a ceremony that included Shai Agassi, Better Place USA CEO, Idan Ofer Chairman of the Board, and Moshe Kaplansky, CEO for Better Place Israel.
Besides private owners, the cars were also delivered to at least two rental car companies where the cars will be available for either tourists or local people wishing to try them out in normal road conditions. One of these companies the Eldan Group signed an agreement with Better Place in December to make the cars available for either rentals or on a long term lease basis.
The entire project was merely a dream in 2005 when Shai Agassi expressed his vision that one day electric cars would be seen on the roads of both Israel and the world at large. As contrasted with other electric car companies, including General Motors with their Volt electric-hybrid model, Better Place is not only offering a total electric car but also an infrastructure to run them.
This infrastructure, which is already in place in both Denmark and Holland, consists not only of special "charging posts" to recharge the car's lithium ion batteries, but special battery pack exchange stations that enable the car's battery pack to be exchanged for a freshly charged one in only about 3 minutes.
One of the big concerns involving electric cars is their rather short driving range of only around 140 km between charges. This is why the infrastructure being offered by Better Place will not only provide numerous charging posts for these cars (including one at the residence for those owing or leasing one of them) but also the battery exchange stations as well.
Article continues: http://www.greenprophet.com/2012/01/better-place-israel-roads-100/
Image credit: BetterPlace