Slash-and-burn 'improves tropical forest biodiversity'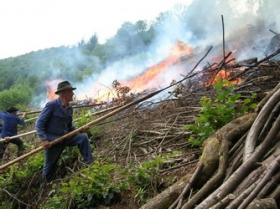 [MEXICO CITY] Slash-and-burn agricultural practices, banned by governments because of the risk of uncontrolled fires, provide better growing conditions for valuable new trees than more modern methods of forest clearance, a study suggests.
Starting in 1996, researchers cleared 24 half-hectare areas of tropical forest in Quintana Roo state, in southern Mexico, using three methods: clear-felling, where most of the trees are cut down; bulldozing; and slash-and-burn, a practice common among smallholders, in which trees are felled, left to dry and then burned, to prepare the land for agriculture.
Mahogany seeds and seedlings were then planted and, after 11 years, the researchers compared the sites and found that slash-and-burn techniques had provided the best growing conditions for mahogany.
But, more interestingly, many valuable species had thrived in the slash-and-burn plots, said Laura Snook, one of the study authors and programme director at Bioversity International, which conducts research into agricultural biodiversity for the improvement of livelihoods.
In clear-felled areas, more than half of each area contained tree species of no commercial value, Snook said. In areas cleared by slash-and-burn, 60 per cent of species were commercially valuable. Additionally, the largest trees in slash-and-burn areas were 10 per cent bigger than those in bulldozed areas.
Snook was presenting the results of the study — which ended last year — at the annual conference of the International Society of Tropical Foresters, at Yale University, United States, last month (26 January).
Article continues: http://www.scidev.net/en/agriculture-and-environment/forestry/news/slash-and-burn-improves-tropical-forest-biodiversity--1.html
Image credit: Reutebrennen