Costa Concordia disaster may get worse as ship appears unstable on the reef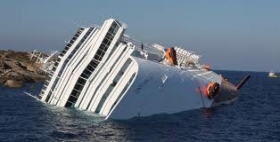 The massive cruise liner is balancing on two rocks and has massive cracks.
The stricken Costa Concordia cruise liner might soon collapse under its own weight.
A video produced by a remotely operated vehicle (ROV) has revealed that the rocks on which the ship sits have now started crumbling dramatically.
The ROV video was shot on Feb. 11, nearly a month after the ship ran aground the Tuscan coast of Giglio, Italy, killing 17 people and leaving 15 missing.
The devastating disaster at sea will be analyzed through exclusive footage on Discovery Channel's Cruise Ship Disaster: Inside the Concordia. http://dsc.discovery.com/show-news/first-look-cruise-ship-disaster-inside-the-concordia.html
Although experts reassure that "no anomalies" are reported by the close monitoring of the hull and that the de-fueling operations run smoothly, with over 900 cubic meters of fuel pumped out so far, underwater images of the capsized ship appear to tell a different story.
Three dimensional images realized by a sophisticated multi-beam sonar and laser technologies which can be used at depths of 1500 feet, revealed that the 950 foot-long, 116 foot-wide, 114,500-ton ship precariously sits on two pieces of rock.
"The Concordia doesn't rest on a relatively flat rock platform. On the contrary, the bow and stern sit on two rocks, one larger and the other smaller. In between there is sloping sand which degrades by 20 percent toward deep sea," Andrea Faccioli, sales manager at Codevintec, the highly specialized company which produced the 3D images, told Discovery News.
Photo credit: Tobetravelagent.com
Article continues: http://news.discovery.com/earth/costa-concordia-collapse-121902.html#mkcpgn=rssnws1