National Defense and President Obama's 2013 Clean Energy Budget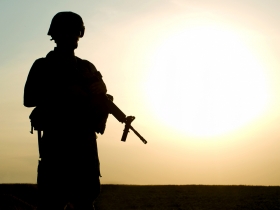 As far as clean energy and green jobs go, President Obama's 2013 budget includes a Christmas-in-July package of initiatives that are designed to help pull the U.S. out of recession while transitioning the economy to cleaner, safer, more reliable and less price-spikey forms of energy. Those last two items – price and reliability of supply – are especially important to the Department of Defense, which will see its rate of growth slow dramatically under the new budget.
In that light, the President's clean energy package goes beyond a boost for domestic economic health. It will also play an important role in U.S. defense operations overseas, especially as actions in the Middle East draw down and attention pivots to the Asia-Pacific region.
The 2013 budget and new green jobs
Daniel Weiss over at Think Progress provides a good rundown of the impacts of the clean energy package. Along with environment-related public health and global warming initiatives, it includes tax credits and other forms of assistance for wind, solar and other renewable energy companies, and more funding for research and development for renewable energy, energy efficiency and advanced manufacturing technologies.
That all adds up to tens of thousands of new green jobs, many of which are in traditional union trades, such as electrician and mechanic, which will create new opportunities for reviving the blue collar middle class.
Article continues: http://www.triplepundit.com/2012/02/national-defense-president-obamas-2013-clean-energy-budget/
Soldier image via Shutterstock