In the News: New sanctuaries to help threatened dolphins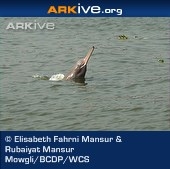 Three new wildlife sanctuaries have been declared by the Government of Bangladesh, in the hope that they will help to prevent the extinction of the threatened Irrawaddy and Ganges river dolphins.
Threatened dolphins
Freshwater dolphins are among the most threatened species of dolphin in the world, with the enigmatic Yangtze river dolphin, or baiji, now believed to be extinct. It is hoped that the three new sanctuaries, which are located in the world's largest mangrove ecosystem, will help to prevent the last two remaining species of freshwater dolphin in Asia from suffering a similar fate.
The sanctuaries will cover a total area of almost 11 square kilometres, which includes 31 kilometres of channels. The size and location of the sanctuaries was determined using scientific findings from a study by the Wildlife Conservation Society (WCS) and the Bangladesh Forest Department.
Declining numbers
While there are currently no estimates of the global population of the Irrawaddy and Ganges river dolphins, they are believed to be in decline and to have disappeared from major parts of their historic range. Entanglement in fishing gear and the depletion of their natural prey are thought to be contributing factors.
Director of WCS's Asian Freshwater and Coastal Cetacean Program, Brian D. Smith, said, "Declaration of these Wildlife Sanctuaries is an essential first step in protecting Ganges River and Irrawaddy dolphins in Bangladesh. As biological indicators of ecosystem-level impacts, freshwater dolphins can inform adaptive human-wildlife management to cope with climate change, suggesting a broader potential for conservation and sustainable development."
Article continues: http://blog.arkive.org/2012/02/new-sanctuaries-to-help-threatened-dolphins/