Is Shale Gas Good or Bad? Panelists and the Audience at KPMG Summit are Split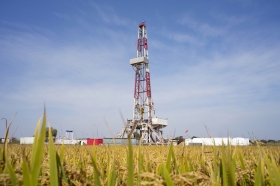 "Is the emergence of shale gas a positive or negative development with respect to sustainability?" This was one of the most interesting questions discussed on one of the panels at KPMG's Global Summit last week in New York. Given the growth of both interest and dispute around shale gas, is shale gas is a bridge to a sustainable future or a bridge to nowhere?
It's not that we lack controversial sources of energy, from nuclear energy to ethanol, but none of these resources has the potential to become a substantial resource like shale gas has for better and worse. With so much at stake when it comes to how sustainable the future of energy is going to be, it's no wonder that even at the KPMG summit, shale gas became such a hot topic that the panelists and the crowd seemed to be very passionate about and at the same time split about the answer to the question.
First let's look at why this question matters at all. According to KPMG's Energy Survey 2011 there's a growing interest in shale gas and oil: 44 percent of respondents believe these to be the energy sources that will see the most future investment (the corresponding figure was less than 1 percent in 2010). Shale gas will represent 65 percent of US gas production by the 2030s, up from an estimated 43 percent by 2015 according to the survey.
These figures are somewhat higher than the forecast provided by the U.S. Energy Information Administration (EIA). In EIA's view, shale gas is expected to grow to nearly half of all natural gas production by 2035, spurred by new technology and a greater push toward more liquids-rich plays due to higher oil prices.
Article continues: http://www.triplepundit.com/2012/02/shale-gas-good-bad-panelists-audience-kpmg-summit-split/
Gas drilling image via Shutterstock