Diesel Exhaust linked to cancer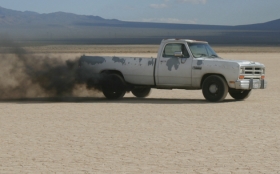 Heavy diesel exhaust (DE) exposure in humans may increase the risk of dying from lung cancer, according to two new studies released this week.
Starting in the 1980s, studies have investigated a possible causal relationship between exposure to diesel exhaust and lung cancer. In 1989, the International Agency for Research on Cancer (IARC) classified diesel exhaust as a probable carcinogen.
To determine the association between diesel exhaust exposure and the risk of dying from lung cancer, Michael D. Attfield, Ph.D., formerly of the National Institute for Occupational Safety and Health, in Morgantown, West Virginia, Debra T. Silverman, Sc.D., of the National Cancer Institute, and colleagues, conducted a cohort study of 12,315 workers in eight underground nonmetal mining facilities, called the Diesel Exhaust in Miners Study.
Information was collected on workers starting in the year of introduction of diesel-powered equipment in each facility (between 1947 and 1967) to the end of the follow-up period on December 31, 1997.
The authors estimated the exposure of each worker to respirable elemental carbon (REC), a surrogate for diesel exhaust exposure, from a variety of sources including a 1998-2001 survey of diesel exhaust exposure at each facility, data from the US Mine Safety and Health Administration Mine Information Data Analysis System compliance database, data on diesel equipment usage over time at each facility, and historical mine ventilation data.
The researchers found a statistically significantly increased risk of lung cancer with increasing REC exposure among underground workers. Some evidence of increased risk was also shown for longer-term workers above ground who were exposed to elevated levels of REC.
Other workplace exposures such as silica, asbestos, non-diesel exhaust-related polycyclic aromatic hydrocarbons, respirable dust, and radon, had little or no effect on the findings.
Diesel smoke image credit: http://blogs.dieselpowermag.com
Article continues: http://www.clickgreen.org.uk/research/trends/123257-studies-find-link-between-diesel-exhaust-and-increased-risk-of-cancer.html