Is America Beyond Peak Meat?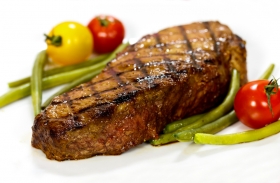 The majority of us are still loathe to replace meat and potatoes with lentils and quinoa, but the United States' meat consumption has declined in recent years. According to the U.S. Department of Agriculture, the average meat intake for Americans peaked at 184 pounds (84.5 kilograms) a person in 2004. Buy 2011, that amount dropped to 171 pounds, and projections for 2012 indicate even more of a decrease to 166 pounds per person this year.
So what is going on? A convergence of forces are at work: a bad economy has forced families to cut back on their food expenditures; concurrent rising prices due to the increased costs of energy and commodities; and concerns over health, the environment, animal welfare and industrial meat production.
This recent trend mimics what occurred in the United States in the 1970s, when the average American's consumption of beef peaked at 91 pounds in 1976. As concerns over the effects of beef on health spiked, more consumers turned to poultry as a leaner alternative. What was once an average of a pound of poultry per month rose to a pound per month by the 1990s. That same decade, Americans began to eat more poultry by weight than beef, but now even that number is in decline.
Other cultural and environmental trends have had an impact on meat consumption in the United States. The once ghettoized "health food store" has gone mainstream as companies like Whole Foods and Trader Joe's are a common site in the suburbs and exurbs. Both companies sell a variety of meatless alternatives, and other large national chains like Target and Safeway are introducing alternatives to all-American goodies like hot dogs and hamburgers.
Article continues: http://www.triplepundit.com/2012/03/meat-consumption-united-states/
Steak image via Shutterstock