Spring Flooding 2012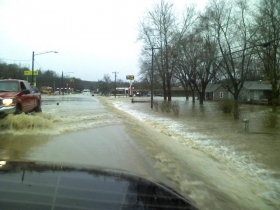 Spring floods are a common situation. This is due to winter snowfall melting from where it had accumulated and adding to the normally higher spring rain storms. Last winter was fairly warm and snowfall did not accumulate, For the first time in four years, no area of the country faces a high risk of major to record spring flooding, largely due to the limited winter snowfall, according to the NOAA's annual Spring Outlook, which forecasts the potential for flooding from April to June.
A flood is an overflow of an expanse of water that submerges land. The European Union (EU) Floods Directive defines a flood as a covering by water of land not normally covered by water. Flooding may result from the volume of water within a body of water, such as a river or lake, which overflows or breaks levees, with the result that some of the water escapes its usual boundaries.
Floods can also occur in rivers, when flow exceeds the capacity of the river channel, particularly at bends or meanders. Floods often cause damage to homes and businesses if they are placed in natural flood plains of rivers. While flood damage can be virtually eliminated by moving away from rivers and other bodies of water, since time out of mind, people have lived and worked by the water anyway. That humans continue to inhabit areas threatened by flood damage is evidence that the perceived value of living near the water exceeds the cost of repeated periodic flooding.
"We're not forecasting a repeat of recent historic and prolonged flooding in the central and northern U.S., and that is a relief," said Laura Furgione, deputy director, NOAA's National Weather Service. "The severity of any flooding this year will be driven by rainfall more so than the melting of the current snow pack."
The Ohio River basin including portions of Illinois, Indiana, and Kentucky, along with parts of Louisiana and Mississippi are the only areas with an above-normal risk of flooding as soil moisture and river levels are currently above normal. Additionally, odds favor above-average April rainfall for the Ohio River basin.
River and stream water levels are normal to below normal for most of the country and there is less snow pack than in previous years. As a result, there is a normal flood risk from the Northeast, through the mid-Atlantic, across most of the northern Plains and into the Northwest. However, heavy spring rainfall can lead to flooding at any time, even in areas where overall risk is considered at or even below normal.

For further information: http://www.noaanews.noaa.gov/stories2012/20120315_springoutlook.html
Photo: Wikipedia