Arctic Sea Ice Hits Maximum Extent for 2012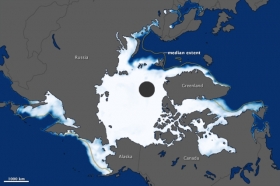 Sea ice extent in the Arctic has reached its maximum extent for the year, and is starting to melt with the onset of spring. At 15.24 million square kilometers (5.88 million square miles), that extent was slightly larger than that of last year's record low maximum, but continues a downward progression in the region's sea ice. The last nine years have seen the lowest maximum extents recorded by satellite.
Ice extent is declining year-round, but the downward trends for winter months are less steep than for summer, largely because most of the Arctic Ocean still gets covered in ice every winter as the sun disappears north of the Arctic Circle. However, the more that the summer sea ice minimum declines - and last year's extent essentially tied 2007 as the lowest on record - the harder it is for the winter maximum to reach historical levels, because there is a smaller base on which to build.
Of particular concern is that the ice is declining in volume as well as extent. This winter, ice was only about 10 to 30 centimeters (4 to 12 inches) thick at most, according to Walt Meier of the National Snow and Ice Data Center (NSIDC). "So it will all melt away very quickly," he says - and as it melts away more completely, so it becomes harder for it to re-form, creating what NSIDC director Mark Serreze has called an "overall downward spiral."
Original article: http://news.discovery.com/earth/arctic-sea-ice-reaches-maximum-extent-for-year-120328.html#mkcpgn=rssnws1
Image credit: Jesse Allen, NASA Earth Observatory