Whole Foods Will No Longer Sell Overfished Species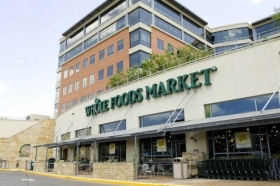 Fish is an important source of protein around the world. Fish provides almost three billion people globally with almost 20 percent of their average per capita intake of animal protein, according to the Food and Agriculture Organization (FAO) of the UN. However, many of the world's fish populations are in trouble. In fact, 53 percent of the world's fisheries are exploited and 32 percent are overexploited, depleted or recovering from depletion. Enter Whole Foods and its commitment to selling sustainable sea food.
Whole Foods Market found a way to commemorate Earth Day: it will no longer sell wild-caught fish with a "red-rating," meaning a species is overfished, in its seafood departments, starting this Earth Day (April 22). This is one-year ahead of its original target of Earth Day 2013. A red rating is determined by non-profit organizations Blue Ocean Institute and Monterey Bay Aquarium, and in addition to meaning a species is overfished, it can also mean that the current fishing methods used harm other marine life or habitats. Whole Foods will be the "first national grocer to stop selling red-rated seafood," according to a press release.
As of April 22, Whole Foods will not be selling certain fish species, including Atlantic halibut, grey sole, and skate. This is important because all three species are overfished. Atlantic halibut is the largest species of flatfish found in the northwest Atlantic Ocean, according to the Northeast Fisheries Resource Center (NEFSC), and has been heavily overfished in the 19th and 20th centuries. Unfortunately, Atlantic halibut populations still have not recovered.
Grey sole are properly known as flounder, and are found in the Atlantic Ocean and Gulf of Mexico. Most flounder populations have declined from overfishing and poor management, according to the Environmental Defense Fund. Skate are also found in the Atlantic Ocean and have been severely overfished. Most are caught with bottom trawls and according to the Monterey Bay Aquarium that results in "high levels of accidental catch."
Article continues: http://www.triplepundit.com/2012/04/foods-will-longer-sell-overfished-species/
Image credit: Whole Foods Market