Wind Tops 10 Percent Share of Electricity in Five States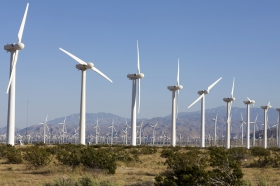 A new picture is emerging in the U.S. power sector. In 2007, electricity generation from coal peaked, dropping by close to 4 percent annually between 2007 and 2011. Over the same time period, nuclear generation fell slightly, while natural gas-fired electricity grew by some 3 percent annually and hydropower by 7 percent. Meanwhile, wind-generated electricity grew by a whopping 36 percent each year. Multiple factors underlie this nascent shift in U.S. electricity production, including the global recession, increasing energy efficiency, and more economically recoverable domestic natural gas. But ultimately it is the increasing attractiveness of wind as an energy source that will drive it into prominence.
Wind power accounted for just 2.9 percent of total electricity generation in the United States in 2011. In five U.S. states, however, 10 percent or more of electricity generation came from wind. South Dakota leads the states, with wind power making up 22 percent of its electricity generation in 2011, up from 14 percent in 2010. In 2011, Iowa generated 19 percent of its electricity with wind energy. And in North Dakota, wind's share was 15 percent.
Even though the cost of generating electricity from the wind has fallen substantially, certain policies have been needed to help it compete with the longtime support and lack of full-cost accounting for fossil fuels. Through so-called renewable portfolio standards (RPS), 29 states now require a percentage of utilities' electricity to come from renewables by a certain date. This includes 8 of the top 10 states in total installed wind power capacity.
Wind farm photo via Shutterstock.
Article continues at Earth Policy Institute.