California Charges Forward on EVs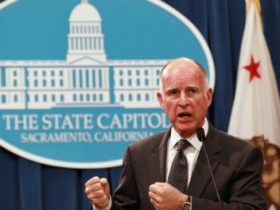 As you may have seen, California Governor Jerry Brown announced a $120 million settlement last week with utility company NRG. The funds will be used to develop a large scale infrastructure effort for electric vehicles. This statewide charging network will include at least 200 fast-charging stations and another 10,000 plug-in units at 1,000 locations across the state.
This not only puts California at the forefront of the electric vehicle revolution, it also will encourage these cars to range widely across the state, beyond the limitations of their batteries. This lays significant groundwork for the stated goal of 1.5 million zero emission vehicles on the road by 2025. Even though the primary usage will likely be for commuting, this infrastructure will also make an electric vehicle purchase possible for individuals such as renters who may not be able to charge the cars at home.
According to the press release, "The settlement announced today resolves ten-year-old claims against a subsidiary of Dynegy Inc., then a co-owner with NRG of the portfolio of power generating plants currently owned by NRG in California, for costs of long-term power contracts signed in March 2001. NRG assumed full responsibility for resolving this matter in 2006 when NRG acquired Dynegy's 50% interest in the assets."
This means that this new EV infrastructure won't cost taxpayers a dime.
Article continues: http://www.triplepundit.com/2012/04/california-charges-forward-evs/
Image credit: Justin Sullivan/Getty Images