In the News: New National Park provides hope for world's rarest wild cat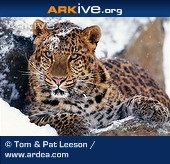 With fewer than 50 individuals remaining in the wild, the Amur leopard is thought to be the world's rarest wild cat, and the creation of a new protected area in Russia is an important step towards the conservation of this highly threatened species.
Situated in Primorsky Province in Russia's Far East, the 262,000 hectare Land of the Leopard National Park covers 60% of all remaining Amur leopard habitat and encompasses all known breeding grounds for this species.
The establishment of the park marks the positive culmination of more than a decade of work by WWF.
"Amur leopards are literally teetering on the brink of extinction," says Sybille Klenzendorf, head of WWF's Species Program. "With the establishment of Land of the Leopard National Park, in conjunction with other conservation efforts, we can now start to focus on how to begin bringing them back."
Land of the Leopard National Park
Amur leopards live in the temperate forests of Russia's Far East, between Vladivostok and the Chinese border. At present, Kedrovaya Pad Nature Reserve and Leopardoviy Federal Wildlife Refuge are the only Amur leopard habitats in Russia, and the Land of the Leopard National Park will encompass parts of both of these areas, as well as some territory surrounding the two parks.
The establishment of Land of the Leopard National Park is certainly a positive step forwards, but care must be taken to ensure that preservation measures across the entire area are put into place to protect the health of the leopard habitat. Several military facilities are located within the Leopardoviy refuge, and poor forest management can aggravate the problem of forest fires in the area. Last month, almost 1,500 hectares of leopard habitat was destroyed as a result of a fire.
Article continues at ARKive