'The real Hunger Games': a million children at risk as Sahel region suffers punishing drought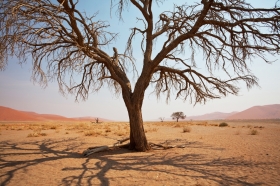 The UN warns that a million children in Africa's Sahel region face malnutrition due to drought in region. In all 15 million people face food insecurity in eight nations across the Sahel, a region that is still recovering from drought and a food crisis of 2010. Un some countries the situation is worsened by conflict.
"We estimate that in 2012 there will be over a million children suffering from severe acute malnutrition—what's important to know is that malnutrition can kill," UNICEF's Director of Emergency Programs, Louis-Georges Arsenault, said in a press release. "We need more resources to really scale up our response before it becomes too late and too many lives are lost."
UNICEF is asking for $120 million in the region to stave off the crisis, but has received only half to date. Experts repeatedly stress that the time to act in these situations is before the hunger crisis grows acute.
Recently visiting Niger, the Executive Director of the World Food Program (WFP), Ertharin Cousin, and the High Commissioner for Refugees, António Guterres, released a joint statement warning, "the window of opportunity to save lives is narrowing by the day."
"In the Ouallam and Maradi regions [of Niger], we saw fathers and mothers struggling to feed their families in villages where hunger has already taken hold in advance of the traditional hunger season," the statement read. "The hungry poor—whether small-holder farmers or pastoralists—face a situation where savings are exhausted and there has been no opportunity to rebuild livestock herds."
Article continues at ENN affiliate, Mongabay
Drought image via Shuttestock