Risk of Asthma Decreased with Dog Ownership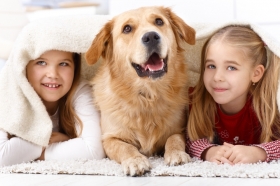 Pet dogs not only provide love and companionship, but also may help prevent the development of asthma in childhood years. Strange as it may sound, a new study has found that household dust from homes with dogs seems to protect against infection with a common respiratory virus associated with asthma in children. Who knew that the bane of every dog owner, cleaning up their pet's dander, is actually equivalent to removing a potentially crucial protector against asthma?
The study was conducted by researchers from the University of California, San Francisco (UCSF) and presented at the 2012 General Meeting of the American Society for Microbiology.
They fed house dust from homes with dogs to mice to see if it protected them from respiratory syncytial virus (RSV), an infection common in infants leading to sever respiratory disabilities. Three groups of mice were used for the experiment. One group was fed the dust before being infected, one group was fed the dust while they were currently infected, and one group was fed the dust and not infected with RSV.
"Mice fed dust did not exhibit symptoms associated with RSV-mediated airway infection, such as inflammation and mucus production. They also possessed a distinct gastrointestinal bacterial composition compared to animals not fed dust," says Kei Fujimura, a researcher on the study.
The household dust in a home with a pet, particularly dogs, possesses a distinct composition of bacterial communities which are not present in a home with no pets. If ingested or inhaled into the body, these microbes can colonize the digestive tract, and modulate immune responses, including protecting against the asthmagenic pathogen RSV.
Continuing along this line of research may lead to more effective treatments to reduce the risk of childhood asthma development.
A full press kit for the meeting where this study was presented can be found here.
Pet Dog image via Shutterstock