Proteins Against Bacteria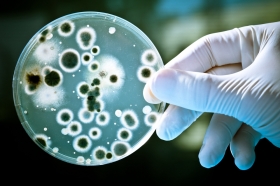 Infections are a constant battle. New drugs to kill off an infection creates resistance in future infections to that drug. So there is a constant need to find new ways to combat infections. Researcher Mohamed Lamkanfi (Ghent University) has discovered that mice that do not produce the receptor protein NLRP6, are better protected against bacterial infections and can easier remove bacteria from the body. Therapeutic drugs that neutralize NLRP6 could be a possible treatment option, in addition to the use of antibiotics, for fighting bacterial infections. His research was published in the leading scientific magazine Nature.
An infection is the invasion of body tissues by disease-causing microorganisms. Infections are caused by microorganisms such as viruses, prions, bacteria, and viroids, though larger organisms like macroparasites and fungi can also infect. To fight them off requires a method to kill off the invader either by direct methods or the indirect one of the own body response system.
Research led by St. Jude Children's Research Hospital scientists has identified a possible new approach to defeating bacterial infections by targeting an innate immune system component in a bid to invigorate the immune response.
In this study, researchers demonstrated that the primary function of one of the innate immune molecules is to suppress inflammation, which in turn dampens the immune response to infections and other threats. Investigators showed the protein works by inhibiting two pathways that control production of specialized molecules that fight infections. The findings appear in the current online edition of the scientific journal Nature.
The discovery of Mohamed Lamkanfi is not insignificant. The first line treatment for bacterial infections has been antibioticse. However, due to the intensive use of antibiotics in the fight against infections, also the resistance of the bacteria grows against this group of medicines.
"The beauty of this finding is that if we can generate monoclonal neutralizing antibodies against this protein, we can block bacterial infection. This discovery offers a completely new approach to fighting infections by targeting the host immune response rather than the bacterium," said Thirumala-Devi Kanneganti, Ph.D., an associate member of the St. Jude Department of Immunology, and the study's senior and corresponding author. Monoclonal antibodies are laboratory-produced versions of natural antibodies and are designed to detect specific proteins. Kanneganti laboratory is already working to develop a neutralizing antibody.
Mice without NLRP6 were far more likely to survive infection with lethal doses of the bacteria than their normal counterparts. The NLRP6-deficient mice had fewer bacteria in their livers and spleens one and three days after infection. They also had higher than normal levels of monocytes and neutrophils in circulation. Those are white blood cells known to play an important early role in combating infections. The findings suggest that mice lacking NLRP6 mount a more effective immune response.
Researchers went on to show that NLRP6 suppressed activity in pathways that trigger production of proteins called cytokines, which promote inflammation to combat the infection.
For further information see St, Jude or Ghent.
Bacteria image via Shutterstock