Rural dwellers must adapt to climate change, says workshop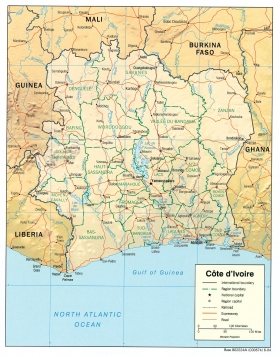 Researchers in Côte d'Ivoire have called for villagers across the region to be made aware of the negative effects of climate change and encouraged to pursue adaptation measures. The calls came at a workshop held at the Regional Unit of Higher Education of Korhogo, in the north of the country earlier this year (18 May), at which researchers presented recent work on the impacts of climate change in the region.
"Data from 1970–2000 show that rainfall during the period decreased by about 12 per cent in northern Côte d'Ivoire," Bama Koné, coordinator of the research, told SciDev.Net. He added that annual temperatures increased by almost one degree Celsius during the same time frame.
Koné said that the rainy season has shortened, while the dry season has become longer.
"Conditions in the region have become harsher and longer, vegetation has been damaged, many species are endangered, and many rivers and streams have dried up," he said.
Article continues at Africa.
Map image via Wikipedia.