Mobius Motors creates a car specifically for Africa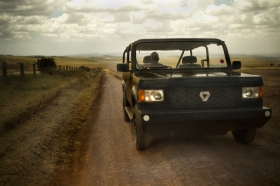 Joel Jackson arrived in Kenya in 2009 and immediately had a social innovation idea—yet it had nothing to do with the not-for-profit farming organisation that he had come with. It wasn't farming that caught Joel's attention, it was the state of the African roads: the lack of appropriate transport that has affected many parts of rural Africa, keeping areas remote. Joel Jackson rolled up his sleeves and set about building a vehicle that would serve the African market; a $6,000 car called the Mobius One.
Africa's poorest are largely immobile and do not have appropriate transport services. Every day millions of people often walk 10+ miles to get to basic amenities such as clean drinking water, schools, hospitals and jobs. Chronic government underinvestment in roads and public transit has restricted travel. Africa's most disadvantaged cannot afford to buy a car, yet need reliable transport services to prosper. The Mobius One is the first social innovation vehicle that Jackson built with local welders and mechanics. The 'concept of the car' was redesigned and stripped of all creature comforts that Western drivers take for granted. It excluded costly technologies such as air conditioning and glass windows. Instead, it was built from tubular steel frames and off-the-shelf parts, looking very much like a dune buggy with maximised suspension. It took 10 months to build and cost $14,000 (£9,000).
Joel Jackson has since set up Mobius Motors and raised a quarter of a million dollars in venture-capital funding. He recruited a team of engineers to build the second social innovation prototype, Mobius Two; a durable auto that can withstand the bumpy, rugged African roads. Jackson aims for the finished vehicle to be sold for $6,000, which is cheaper than what many Kenyans pay for a second-hand car. For example, a four-year-old Toyota sells for around $8,000. Mobius Motors has a modest production run in 2012 for the Mobius Two. It is around 50. Jackson hopes to increase it up to 400,000 a year in the next decade.
The vast majority of cars in Kenya are second-hand and expensive because of the taxes, plus 98% of cars are imported. So, the prospect of being able to buy a new social innovation car designed specifically for the African market will appeal to people. Currently, there are around 800,000 cars in Kenya, with around 80,000 sold each year. Many of them are bought to sustain a business rather than for personal use. It is not unusual to see people crammed into a car, which is used as an informal public transport system.
Mobius Two photo credit Mobius Motors.
Read more at ENN Affiliate, JustMeans.