Solar-powered plane comes home after 4,000-mile odyssey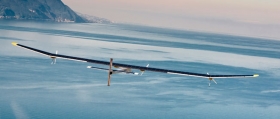 A unique airplane has just completed a 4,000-mile journey, making the first solar-powered intercontinental round-trip air journey.
Traveling between Europe and Africa, the Solar Impulse experimental solar airplane landed in Payerne, Switzerland at 8:30 p.m. local time (2:30 p.m. ET) on Tuesday. The odyssey began two months ago, on May 24. This wasn't a test to see how fast the plane could make the trip, but to assess its endurance and reliability.
The project was also aimed at raising public awareness about energy issues.
"The goal of this airplane is not just to go from one point to another, but to fly as long as we wish, promote renewable energy and ambitious energy policies," pilot Bertrand Piccard, founder of Solar Impulse, said during the intercontinental flight. "All of these have been so successful."
Total flight time for Tuesday's 382-mile (615-kilometer) trip from Toulouse, France, to Payerne was 13 hours and 29 minutes. The average air speed was 28 mph (46 kilometers per hour).
Solar Impulse flew the eight-leg, 4,000-mile (6,000-kilometer) trip from Payerne to Morocco and back again with Piccard and André Borschberg taking turns in the single-seat cockpit. Stopovers included Madrid in Spain, and Rabat and Ouarzazate in Morocco, as well as Toulouse. The most challenging destination, not only for this aircraft but for commercial ones as well, was Ouarzazate, a region rich in turbulence and strong winds.
Article continues at MSNBC.com
Image credit: http://solar-impulse.epfl.ch/