Update: Electric Car Sales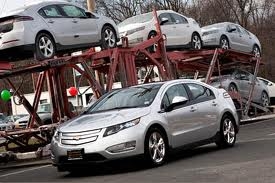 In a few weeks, we'll come upon the four-year anniversary of when candidate Barack Obama proposed that America put 1 million plug-in electric vehicles on our roads by 2015. Even before the sale of the first Chevy Volt or Nissan Leaf, most observers knew that hitting the seven-figure mark by 2015 was more aspirational than an actual goal. Recent sales numbers for EVs in the U.S. have reveal market challenges facing battery-powered cars.
Last week, Nissan reported that June 2012 sales of its electric Leaf reached 535 units—less than one-third of the 1,708 LEAFs sold in June 2011. Throughout 2012, monthly sales numbers have hovered around the 500-unit mark. That's a troubling sign for EVs because Nissan had announced that its sales would double from 9,674 in 2011 to nearly 20,000 units this year. If trends continue, Nissan's Leaf-manufacturing facility in Smyrna, Tennessee—expected to come online in December—could operate well below its capacity of 150,000 units annually.
Sales of the Chevy Volt plug-in hybrid have fared better, with General Motors reporting that it sold 1,760 units in July 2012—one of its best months so far. The record for Volt sales was March 2012, when the company sold 2,289 units. All signs indicate that the market for plug-in hybrids, which run mostly on electricity but use a gas engine to extend driving range, will be more popular than pure electric cars in the United States.
The Toyota Prius Plug-in Hybrid, which went on sale in March, has already surpassed the Nissan Leaf in sales for 2012. Toyota sold 4,333 plug-in Priuses so far in 2012, while Nissan managed to sell just 3,148 Leafs through June. The current tally for 2012 Volt sales is 8,817.
Volts being delivered photo credit: EVWorld.
Read more at ENN Affiliate, CleanTechies.