12 Innovations to Combat Drought, Improve Food Security, and Stabilize Food Prices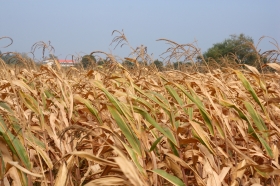 Soaring temperatures and low precipitation could not occur at a worse time for many farmers in the United States. Intensifying drought conditions are affecting corn and soybean crops throughout the Midwest, raising grain prices as well as concerns about future food prices. The U.S. Drought Monitor reports that 88 percent of this year's corn crop and 77 percent of the soybean crop are now affected by the most severe drought since 1988. The U.S. Department of Agriculture (USDA) is providing drought assistance to 1,584 counties across 32 states and warns of increased food prices in 2013 as a result of corn and soybean yield losses.
Corn is currently selling at around $9 a bushel, a 50 percent increase from June, while soybeans are selling at a record high of $17 a bushel as a result of drought-related losses in crop yields. "The increased prices may benefit farmers in the short run," said Danielle Nierenberg, director of the Worldwatch Institute's Nourishing the Planet project, "but consumers will experience the aftermath of price increases in the form of more money spent on poultry, beef, pork, and dairy products."
Nearly half of all domestic corn production is used as livestock feed, a trend that is now encouraging larger livestock producers to import corn from Brazil while smaller farmers must reduce herd sizes by sending more animals to the market. Most immediately, poultry prices are expected to rise 3.5 to 4.5 percent due to the animals' more rapid growth and therefore more sudden response to higher feed prices. The price of beef is projected to rise the highest—4 to 5 percent by November—but at a slower rate, reflecting the longer growth period and higher feed requirements of beef cattle.
Higher U.S. grain prices could have an even greater impact worldwide. The United States is the world's largest corn producer as well as a major exporter of crop-derived agricultural products. Declining domestic production could translate into exacerbated food security problems abroad. Countries that import corn and soybean byproducts or animal feed, such as Japan and Mexico, will be affected the most.
Climate change is making it increasingly important to protect local agriculture in the United States and address the issues underlying its vulnerability to natural disasters, such as drought. "Fixing our broken food system is about more than just food prices," said Nierenberg. "It's about better management of natural resources, equitable distribution, and the right to healthy and nutritious food."
The Nourishing the Planet (www.NourishingthePlanet.org) project highlights 12 agricultural innovations that can help make U.S. and global agriculture more drought resilient, as well as sustainable.
Article continues at ENN affiliate, Worldwatch Institute
Corn drought image via Shutterstock