Climate Warming Refuted as Reason for Plant Shifts in High-Profile 2008 Study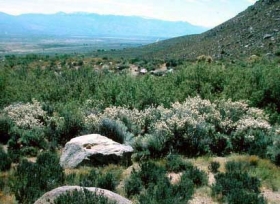 Many simple models of plant response to warming climates predict vegetation to find cooler and/or wetter locations, generally moving upslope from their current positions.
However, the mechanisms explaining species-specific responses to changes in temperature and water availability are most likely much more complex, according to researchers at Texas Tech University and the United States Geological Survey. After reexamining an upslope vegetation shift reported in a high-profile 2008 study published in Proceedings of the National Academy of Sciences, the pair refuted the findings that plants are moving upslope in California because of climate warming by studying one particular desert shrub.
In a study published in the journal, PLoS ONE, Texas Tech ecologist Dylan Schwilk and USGS fire ecologist Jon Keeley reexamined a climate-driven vegetation shift at the Golden State's Santa Rosa Mountains. Schwilk said he was initially suspicious of the 2008 findings after they suggested that one species, a shrub called desert ceanothus, was one of nine that were moving upslope because of global climate change.
"I want to be clear that I'm not saying climate change isn't happening or having effects," Schwilk said. "I study it all the time. But we're trying to have people be more explicit about describing the mechanisms and causes of plant shifts, because I suspect there may be a bias toward automatically assuming climate change as the reason."
Schwilk said the 2008 study looked at the shifting of 10 species during a 30-year period. Pulling 10 species from a 1977 botanical survey of the region, this study linked upslope movement of species to about a 2 F-degree increase in average temperature. The 2008 study reported that nine of these species had an average distribution about 50 meters higher in 2007 than in 1977. The researchers inferred that the desert ceanothus at the bottom of the hillsides were dying off, whereas those at the top were expanding.
Article continues at Science Daily
Image credit:Larry Blakely, Cal Poly Pomona University