BLM Analysis Reveals Massive Potential Damage From Las Vegas Water Grab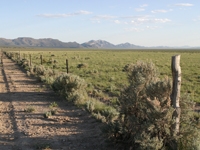 LAS VEGAS— The Bureau of Land Management today released its long-anticipated final environmental impact statement for the pipeline right-of-way for the Southern Nevada Water Authority's "groundwater development project." The project envisions unsustainably siphoning more than 37.1 billion gallons of groundwater per year from at least four valleys in central Nevada and pumping it 300 miles to the Las Vegas Valley.
"The federal government's own scientists are confirming this Las Vegas water project would be an epic environmental disaster," said Rob Mrowka, a Nevada-based ecologist with the Center for Biological Diversity. "It's really no exaggeration to say that the natural, cultural and social heritage of central Nevada is at grave risk from this project."
The impact statement discloses that more than 137,000 acres of wildlife habitat will be permanently destroyed or changed because of the lowering of groundwater tables — by up to 200 feet in many areas. This will drive declines in species like mule deer, Rocky Mountain elk, sage grouse and Bonneville cutthroat trout. Most at risk will be species associated with the springs and wetlands that will dry up as the water beneath them is sucked away.
"Some of Nevada's rarest and most unique species rely on wetlands and springs," said Mrowka. "They've evolved over tens of thousands of years in response to isolation and fragmentation of habitat that occurred after ice ages. The Las Vegas water grab could undo all that and put them on a very real path toward extinction."
Scientific research reveals that many of these species are often found in only one or two springs. As the springs are dewatered and flows are altered and eventually stopped, at least 25 species of Great Basin springsnails will be pushed to, or over, the edge of extinction. Also affected will be 14 species of desert fish such as the Moapa dace and White River springfish; frogs and toads will fare little better, with four species severely threatened by the dewatering.
Other impacts from the project disclosed in the BLM's impact statement today include ground-level subsidence in excess of five feet on over 240 square miles and tens of thousands of tons of new dust generated from dewatered and denuded lands.
Article continues at Center for Biological Diversity
Image credit: Southern Nevada Water Authority